Saint Anne's R.C. Church
88 Second Ave, Brentwood NY 11717
Telephone: 631-273-8113 • Fax: 631-436-7914
Parish Email: This email address is being protected from spambots. You need JavaScript enabled to view it.
Parish Website: www.stannebrentwood.org
Pastor's (Fr. Stan) Email: This email address is being protected from spambots. You need JavaScript enabled to view it.
Associate Pastor's (Fr. Victor) Email: This email address is being protected from spambots. You need JavaScript enabled to view it.
Associate Pastor's (Fr. John Victor) Email: This email address is being protected from spambots. You need JavaScript enabled to view it..

MASS SCHEDULE:
Monday - Friday: 12:00 Noon and 5:00 PM* (English)
Wednesday: 7:30 PM (French Creole)
Thursday: 7:00 PM (Spanish)
Saturday Morning Daily Mass: 9:00 AM (English)
Saturday: 5:00 PM (English), 7:00 PM (Spanish)
Sunday: 7:30 AM (English), 9:00 AM (Spanish), 11:00 AM (English), 12:30 PM (French Creole), 3:00 PM (Spanish), 5:00 PM (English), 6:00 PM (Spanish)
CONFESSIONS:
Daily: Monday – Friday 4:30 PM*
Saturdays: 4:00 - 4:45 PM
* new time as of 10/19/20
Try our NEW Improved way to Donate to
St. Anne's Parish
One-Time Donations
Set up Recurring Donations
Create Your Own Account
Designs for your PC or Smart Phone
It's Fast and Easy!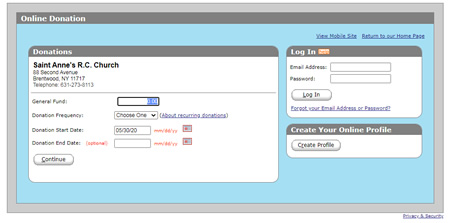 What Families Need to Know About COVID-19 Vaccines
Lo Que las Familias Deben Saber Sobre Las Vacunas Contra el COVID-19
Friday, Feb. 26, 2021
Viernes, 26 de febrero de 2021
2:00 pm —3:00 pm ET
REGISTER: http://bit.ly/CFBNP-022621
Regístrese aquí: http://bit.ly/CFBNP-022621
The seven-week Lent retreat with Chris Stefanick and Bishops from around the country (including our own Bishop/Barres) begins TOMORROW!
Watch The Search on the Catholic Faith Network (CFNTV) or on FORMED and experience a Lent like no other.
If your faith is already solid, The Search will help you to deepen it. If you're feeling unsure, it's for you too. If you're worried about your kids or grandkids, it's a great series for you to share with them! Plus, each week Chris will help you dive deeper into how to use it in small groups during his LIVE show, The Life You Were Made For.
Click the link below to get notified each week when the show is live and join us for what could be your most meaningful Lent ever! It's FREE to be part of the audience, beginning Thursday at 8 p.m. ET.

Information regarding the deadlines for filing proofs of claim in the Diocese's chapter 11 case, and the forms to use, can be found by clicking on the following link to the Diocese's bankruptcy website and scrolling down the page:
Each Friday during Lent at 7:30PM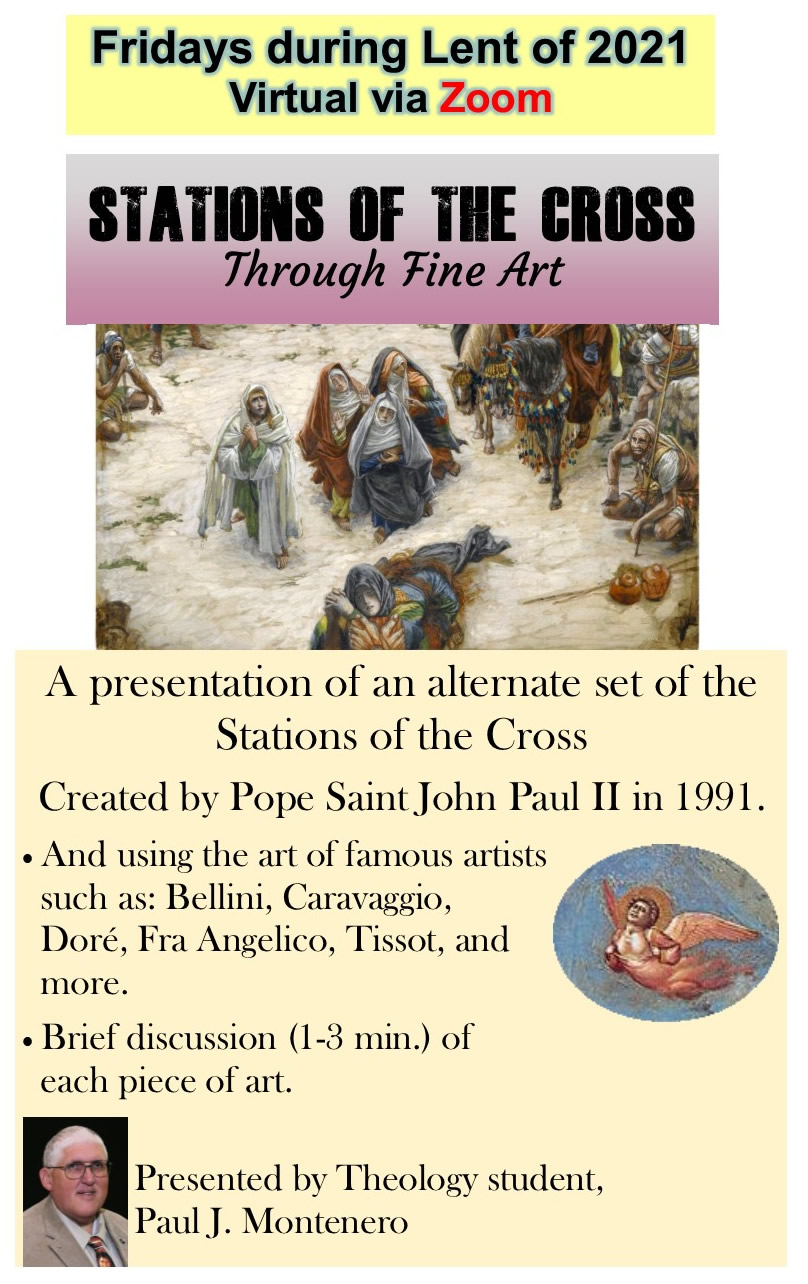 (click Read More for Zoom info)
The 'Equality Act' discriminates against people of faith and threatens unborn life.
Tell Congress you oppose it!
Everyone deserves to be treated with respect and dignity. The so-called Equality Act, which is being voted on in the U.S. House of Representatives soon, in many ways does the opposite and needs to be opposed. Instead of respecting differences in beliefs about marriage and sexuality, the Equality Act would discriminate against people of faith.
The Equality Act would: punish faith-based organizations, such as charities and schools who serve everyone in their communities, simply because of their beliefs; force girls and women to compete against boys and men for limited opportunities in sports, and to share locker rooms and shower spaces with biological males who identify as women; risk mandating taxpayers to fund abortions; force people in everyday life, and especially health care workers, to support gender transition; and expand what the government considers a "public" place, forcing even some parish halls to host functions that conflict with Catholic beliefs.
(La versión en español sigue al inglés)
Dear Parents,
In this week's Gospel, Jesus took Peter, James, and John on top of a high mountain and they see the Transfiguration of Jesus. Jesus clothes became dazzling white. Two great men appeared with him. Moses who gave the Israelites the Ten Commandments, and Elijah a great prophet who taught the people to be faithful to God. From a cloud they hear God say "This is my beloved Son. Listen to him." They wondered what all of this means. Jesus disciples probably wanted to tell everyone what they saw, but Jesus asked them to wait until after his death. Jesus died and resurrected, now they understood and shared this special memory with others that Jesus is God's beloved Son.
As a family watch video in its entirety and then ask each other this question. How will you change and grow during Lent?
Family Prayer: Lord, help us to remember we also are God's beloved children. Amen
---
Read more: Second Sunday of Lent Cycle B / Segundo Domingo de Cuaresma Ciclo B (Faith Formation)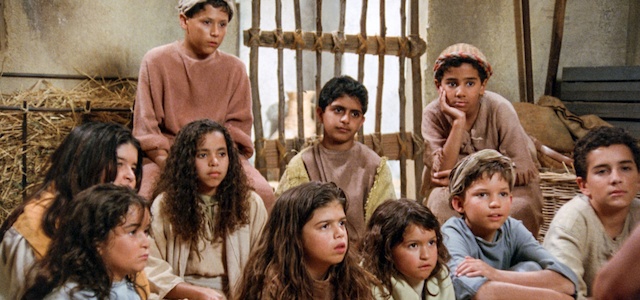 Below is a video of the story of Jesus. Click the link for your language
English:
https://www.jesusfilm.org/watch/the-story-of-jesus-for-children.html/english.html?cid=vs-jfp-ds-us-webshare-2456597837100
Español:
https://www.jesusfilm.org/watch/the-story-of-jesus-for-children.html/spanish-latin-american.html
French/Creole:
https://www.jesusfilm.org/watch/the-story-of-jesus-for-children.html/creole-french-haitian.html
Visit the Faith Formation page
February 21, 2021 - First Sunday of Lent.
Dear Sisters and Brothers,
Looks like winter is holding strong and after few weeks of Ordinary Time, with Ash Wednesday we started the season of Lent. Lent it is a time of preparation for the Easter. It is a time of awakening from the coldness of winter to the warmth and beauty of coming spring. It is a time of awakening from the coldness of our hearts to the reality of Christ's love for us.
In order to correspond to Christ's love, one needs to be humble and realistic about the need to be saved. That need for wholeness, for healing, for love, can be satisfied only by God. Our human brokenness is beyond just human repair, it needs a divine intervention, it needs God's touch. The fulfillment of our happiness and love is found in Christ, who comes down to us and lays down his life for us, so that we can be saved from our brokenness of sin, from the coldness of our hearts. Without Christ, our sins would pile up and make a burden to heavy to carry, and it would bring about our own condemnation and destruction. Christ takes away our burdens and makes our hearts whole again, capable of merciful love for God, for ourselves and for others.
2/21/2021 -Primer Domingo de Cuaresma
Queridas Hermanas y Hermanos,
Parece que el invierno se mantiene fuerte y después de algunas semanas de Tiempo Ordinario, con el Miercoles de Ceniza comenzamos la temporada de Cuaresma. La Cuaresma es un tiempo de preparación para la Pascua. Es una época para despertar del frio del invierno a la calidez y la belleza de la próxima primavera. Es un momento de despertar de la frialdad de nuestro corazón a la realidad del amor de Cristo por nosotros.
Para corresponder al amor de Cristo, es necesario ser humilde y realista sobre la necesidad de ser salvo. Esa necesidad de plenitud, de curación, de amor, solo puede ser satisfecha por Dios. Nuestros quebrantamientos humanos están mas alla de la reparación humana, necesitan una intervención divina, necesitan el toques de Dios. La plenitud de nuestra felicidad y amor se encuentra en Cristo, que desciende a nosotros y da su vida por nosotros, para que podamos ser salvados de nuestro quebrantamiento del pecado, de la frialdad de nuestro corazón. Sin Cristo nuestros pecados se acumularían y harian una carga demasiado pesada de llevar, y provocaría nuestra propia condenación y destrucción, Cristo quita nuestras cargas y hace que nuestros corazones vuelven a estar completos, capaces de amor misericordioso por Dios, por nosotros mismos y por los demás.
Announcements: February 27/28 2021
1. Stations of the Cross during Lent:
Thursdays 6:30 PM—Spanish,
Fridays 5:30 PM— English
Fridays 7:00 PM— Kreyol
2. 2. Please check on the Parish website for opportunity to participate in the Retreat for Lent, following through the internet daily reflections in English and Spanish.
3. Our Parish Outreach is open Monday, Tuesday and Thursday, 9:00 to 11:30. If you need any help or assistance with food, clothing or other needs, please don't hesitate to contact the Outreach by calling and making appointment for the assistance. If a family has COVID you may deliver some food to their door from our outreach. Blessings to all!!!
4. Use our Book Store to purchase Bible and other religious articles after 9:00am Mass on Sunday.
5. We want to thank our benefactors for helping us with masks and food for the outreach. Specially I want to thank Mr. Jacinto the owner of one of the Supermarkets Gala by the train station, who continues to support our parish outreach regularly.
Blessings to all!!!
ANUNCIOS FEBRERO 27 Y 28, 2021
1. El horario del Via Crucis durante la cuaresma es el siguiente:
Jueves 6:30 PM—español,
Viernes 5:30 PM— ingles
Viernes 7:00 PM— Kreyol
2.Por favor vea en el website de la parroquia diferentes oportunidades de participar en Retiros de Cuaresma por medio de internet y reflexiones diarias en inglés y español.
3.Outreach esta abierto los Lunes, Martes y Jueves de 9 a 11:30 AM. Si necesitan ayuda con alimentos, ropa o algotra necesidad, pueden contactar Outreach llamando para hacer una cita. Si una familia tiene COVID, Usted les pode llevar los alimentos conseguidos en alcanze parocchial y dejarlo en sus puertas.
4. La libreria esta disponible para comprar biblias y otros artículos religiosos.
5. Tenemos mas mascaras para regalarles. Agradecemos nuestros bienhechores. Specialmente quieremos agradecer Senor Jacinto, el propietario de uno de Supermercados Gala cerca de estación del treno, por su generosidad con nuestro alcanze parochial.
¡Bendiciones a todos!

Background Screening Update
The Office for the Protection of Children and Young People:
The Charter for the Protection of Children and Young People (The Charter) promulgated by the Bishops of the United States in 2002 outlines specific practices and guidelines providing standards of safety in parishes and dioceses throughout the United States. As directed in The Charter, the Diocese of Rockville Centre requires all employees, clergy, and volunteers to complete three requirements within thirty days of employment or volunteering:
Attend Protecting God's Children Program (Virtus)
Sign the Codes of Conduct;
Complete a background screen application. The Diocese requires all those who remain in active ministry be rescreened at 5 yr. intervals. volunteers/employees.